Madrid has been my last get away before the lockdown we experienced no later than a couple of weeks after this trip.
Now the city is suffering -like Milan- for the spread of the virus and it's uttermost sad to see all those streets bursting with people, now silent and empty as our Italian ones. And thinking about the energy and friendliness of the Spanish people is even more sad.
While we're waiting for all of this to come to an end, here's some tips to enjoy the Madrilenian streets hopping from a street art piece to a tapa, soaking in the sun with a glass of vermouth.
So you can start dreaming your next trip to Madrid and save it for later!
I've been two times in Madrid so I've already checked off the museums, palaces and parks that you usually visit in a standard itinerary, so this time I really wanted to enjoy walking around to discover some street art spots and live more as a local, chilling and getting lost around the streets with no pre-planned itinerary.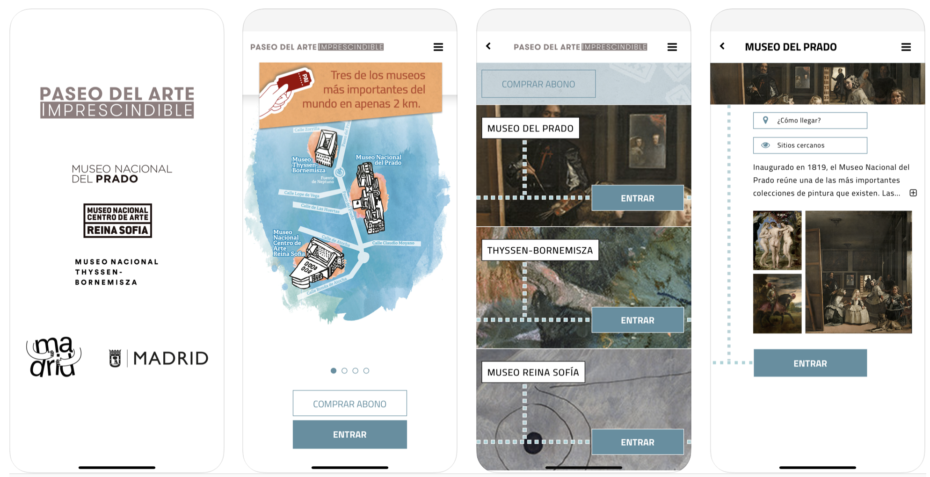 But if you're still missing the basics (like the museums!) I suggest you to download "Paseo del Arte" App ( iOS and Android) and discover the twenty-four masterpieces you cannot miss in Madrid, in a simple and entertaining way. 8 masterpieces in each museum, so if you're not such a fan, you will be sure to see the top ones without spending too much time inside. The Prado, the Reina Sofía and the Thyssen-Bornemisza, are all on the same boulevard created in the 18th century  and known as the "Art Walk" and home of  artwork from Velázquez, Goya, Picasso,  Dalí to Van Gogh, Hopper and Joan Miró and many more. My fav was definitely the Reina Sofia so I suggest you to start from that one 🙂
But let's start first with the most interesting topic… the food!
The best street food: where to eat in Madrid
Trying not to eat pretty much everything you see, anytime, is extremely difficult.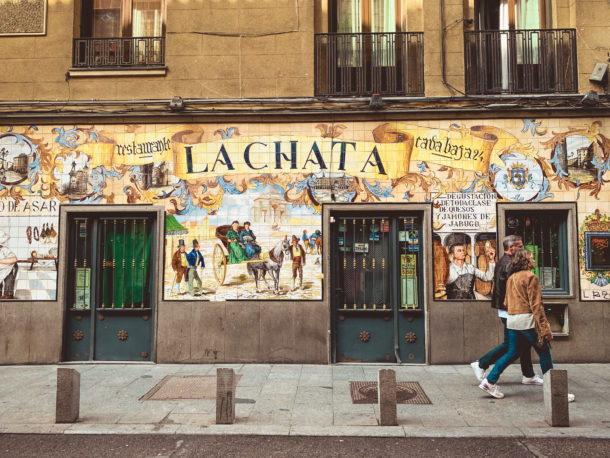 And this is even more tough if you visit one of the 46 food markets in Madrid with their 2.000 market stalls. From the classic bocadillo con calamares or hipster avocado shrimp tostadas to hot and crunchy mariscos, from sangria to vermouth cocktails everybody will be happy and with a full stomach!
MercaMad app will be your lifesaver! Download it on Apple Store or Google Play and get ready to find the nearest market, and all the singular market stalls you will find there. The information updates dynamically with new pictures, events so make sure to check it before you go there for up to date news!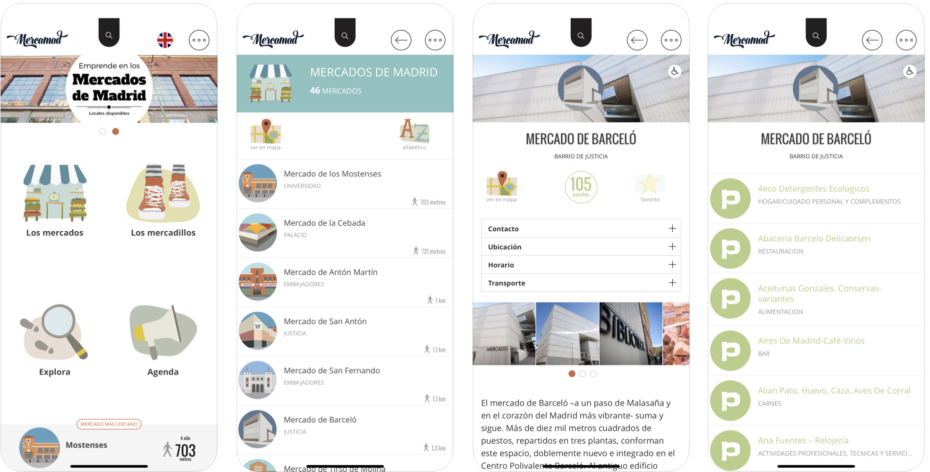 My suggestions? Platea is the fanciest one, located in what used to be a theater. On the three floors you can find typical Spanish street food, as well as international dishes or simply a bar for an after-dinner cocktail.  Check their page to discover special events/concerts: you can enjoy some good music while having some tasty berenjenas fritas con miel (mmh love them!)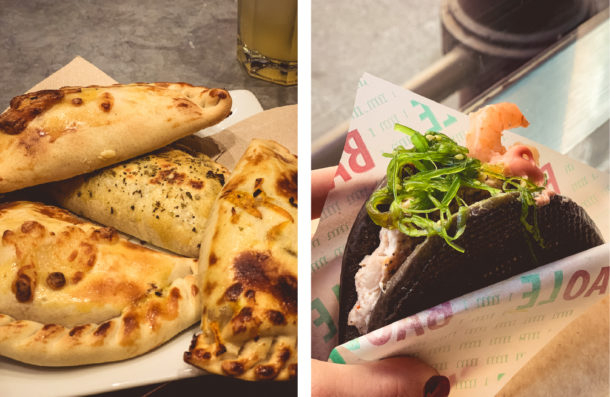 Madrid is famous for its small plates of delicious food, called tapas, and tapeando (hopping from bar to bar sampling tapas) is one of the best ways to immerse into Spanish cuisine.
Follow this VoiceMap tour to discover some of the dishes that are a key part of Madrid – and Spain's – foodie culture, as well as some of the legends and stories associated with Madrid's tapas hotspots.  The main locations will be The Mercado de San Miguel, Mercado de Cebada, Casa Labra, Puerta del Sol and Plaza Santa Ana.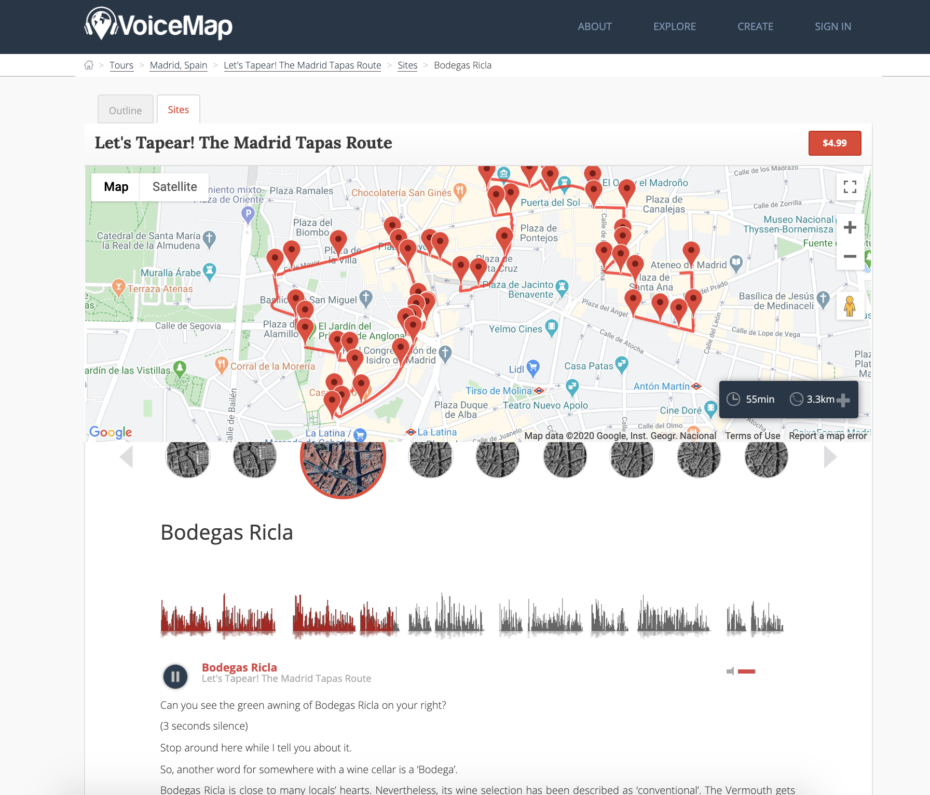 The best street art spots: where to find them in Madrid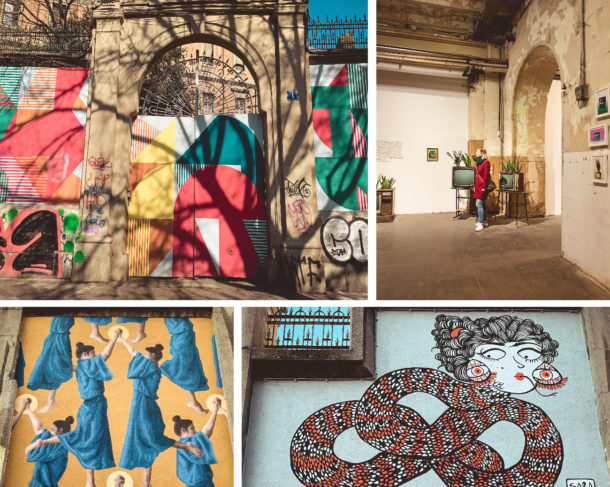 As you know I'm a huge fan of street art and street food (remember my post about Palermo's street art and food ?) so I'm always looking for specific areas in the cities where you can find some impressive works of art. And in Madrid you will meet your match here.
La Tabacalera, opposite Calle de Embajadores, 52, has been our favorite spot in the city: a former XIX century old Fábrica de Tabacos transformed in an open-air art museum and a social self-sustained center which walls are decorated by graffiti writers from all over the world. The entry is free, so make sure you spend some time to stroll around this beautiful building where, even the bathrooms, are hosting art videos and performances!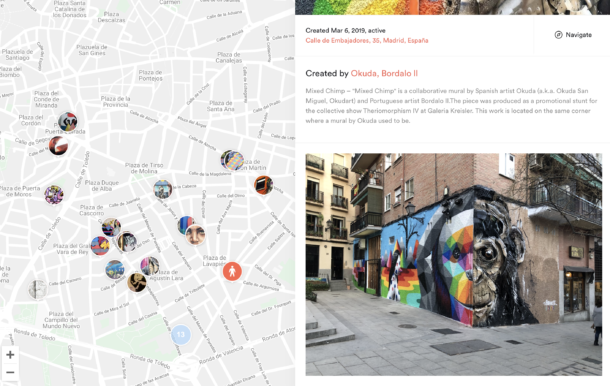 Lavapiés, with its steep, narrow and maze-like strees and Malasaña are the top two neighborhood if you're hunting for street art. You can choose amongst one of the guided tours of Cool Tour Spain or do-it-yourself with the help of the interactive  Madrid Street Art City map  where you can find all the artwork mapped with a lot of infos on the artist and the art piece description. It works with GPS so you can always check if you're missing a spot just around the corner!
Here's the list of the main street art spots in Madrid: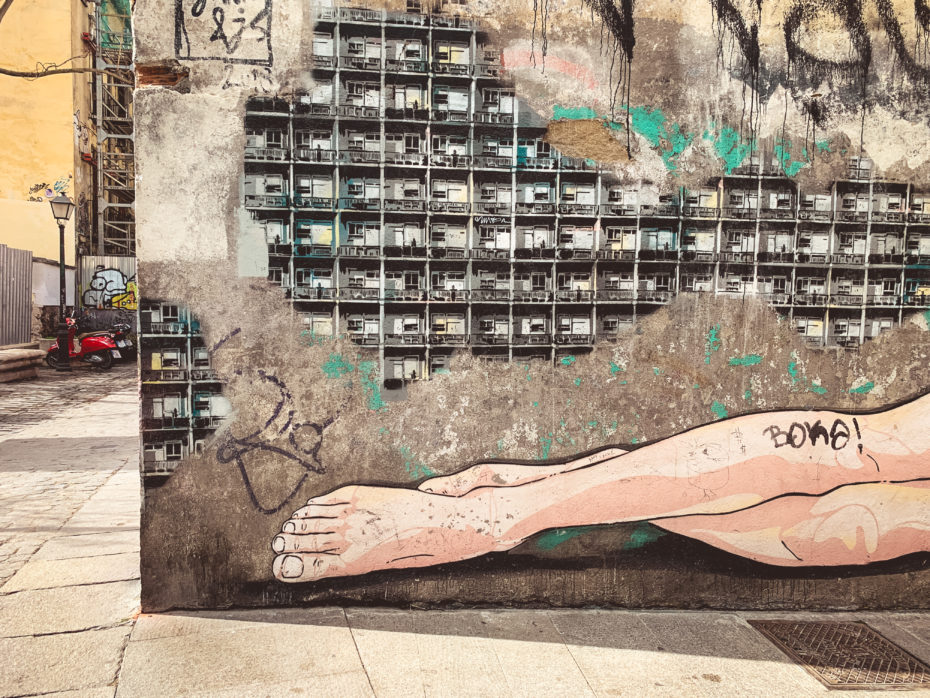 Lavapìes:
Esto Es Una Plaza
Calle Lavapies
Fabrica de Tabacos Street Art Wall
Solar Antonio Grilo
Malasaña:
The Subway of the Plaza de los Cubos
Calle de la Palma
Calle Corredera Alta de San Pablo
Plaza del Dos de Mayo

Other areas:
Calle de Embajadores (Embajadores)
Mercado de la Cebada (Centro)
Plaza del Poeta Leopoldo de Luis (Tetuan)
Calle Marques de Viana (Tetuan)
Calle de las Almortas (Tetuan)
Paco de Lucia Station (El Sacarel)
Calle de Fuencarral (Chueca)
Are you ready to go?