One of the best things about travelling is that you come across new people, discover hidden gems thanks to locals, learn some new words! 
How to overcome this when we're stuck in our homes, without the chance to leave for a long time due to the Coronavirus outbreak? Here you can find 3 activities that can help you connecting with other people around the world and sharing experiences and -why not- learning about new cultures.
1. CHAT WITH A RANDOM STRANGER, QUARANTINED AS YOU ARE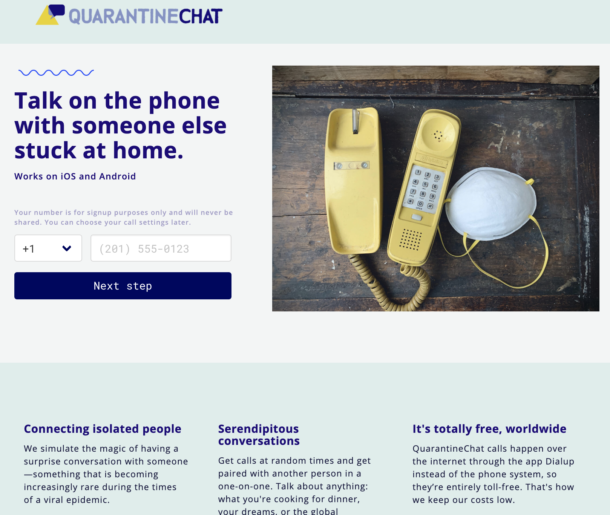 It resembles a bit Chat roulette, but with no video and a more powerful concept behind, Quarantine chat was created by artists Danielle Baskin and Max Hawkins.
"It's to bring magic and serendipity to a new reality where thousands of people are stuck inside alone for the next month all over the world" the artists say. While talking to friends and family over skype, zoom or whatsapp is now the new normal, we are loosing the experience of talking to a stranger.
The quarantine chat is voice service (NO video!) to connect lonely people quarantined together. Once you sign up, you'll be subscribed to periodic calls. Your caller ID will always say "QuarantineChat" when your phone rings.
After a brief moment on hold, you'll match with another random person. You don't have to pick up if you're busy—your partner will be automatically matched with someone else. And you can join and leave the line whenever you'd like.
2. LIVE AN ONLINE EXPERIENCE WITH A LOCAL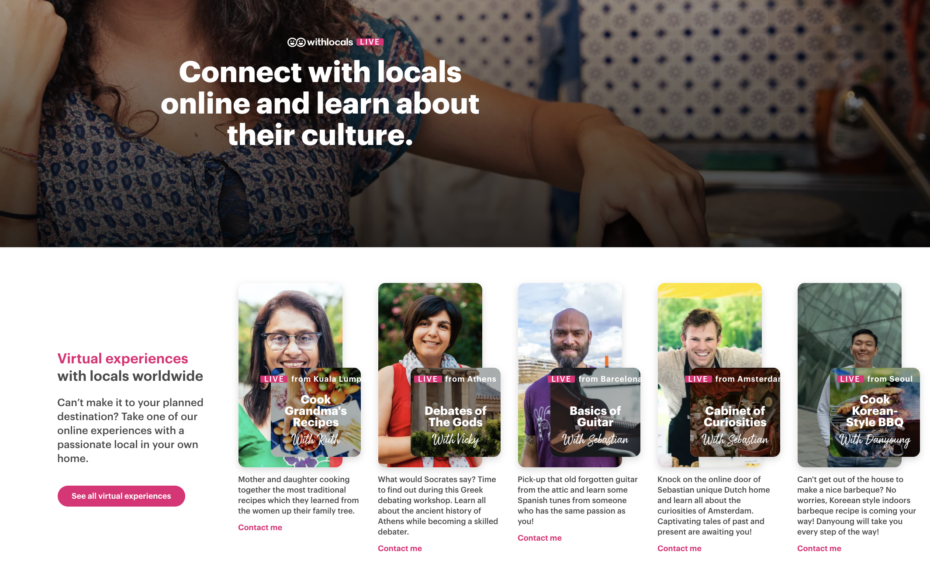 Can't make it to your planned destination and you want meeting new people during quarantine?
Take one of the online experiences with a passionate local in your own home with Withlocals  
They are an experiential  travel company that allows travelers to connect to local hosts who offer private, personalised tours everywhere in the world. In a usual situation you could join hosts for a dedicated city tour or a local culinary experience for a cooking class.  Today they are offering live experiences on their platform available on request, so you you can choose from hosts in Europe, Asia and America just in one click.
3. LEARN A NEW LANGUAGE WITH A VIRTUAL PERSONAL ASSISTANT
Are you a bit shy and you don't want to deal with strangers? You can still practice and improve a new language with Mondly, with the help of a virtual learning assistant powered by chatbots. (Available for iOS and Android). When quarantine will end, you will be able to jump on a plane or train and enjoying talking in another language.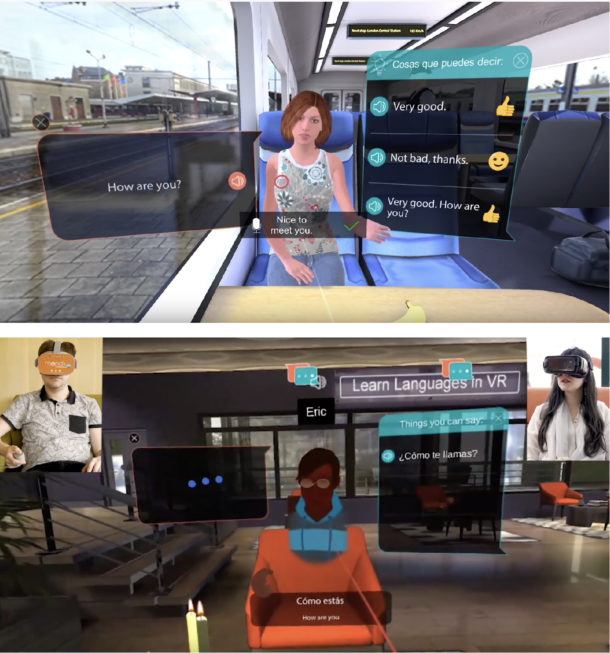 This assistant will guide you practicing real life conversation for rich and immersive educational experiences. The technology uses advanced speech recognition that understands millions of phrases and words in 28 different languages.
The first version offers three main scenes:
The Restaurant – A small bistrot where ordering food and drinks
The Euro train – Have a conversation and make new friends on a train in Europe.
The Hotel – The hospitality experience with a check in into your room
Feeling more confident? You can also join a VR room to chat with other people.
Meeting new people during quarantine never been so easy!
Do you have other ideas or did you experienced something new to meet new people during this unsual situation? If you just want to discover new places from your couch,  you can find a selection of experiences with 360°/VR videos in my article here.